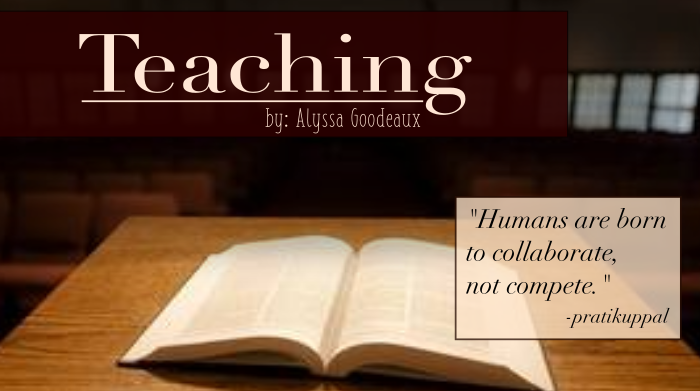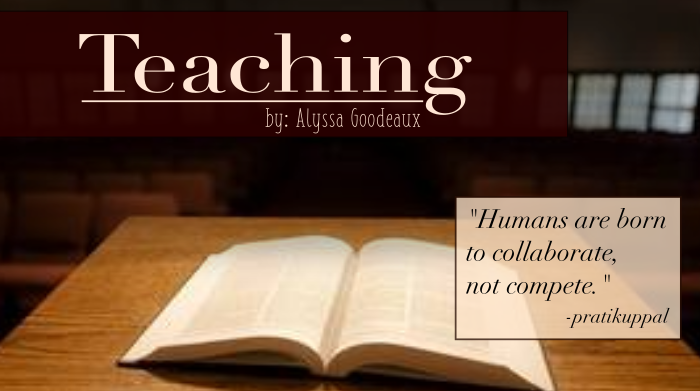 The gifts of the Spirit used to be some mystical superpower in my mind. I struggled with what my "superpower" could be, if I even had one, and how I could possibly grow in them as if to force them. I even thought some of them would be better than others. "Who cares about the power of tongues?!" and later when I was able to better define myself as a servant, "But that's not special at all." I learned later that teaching was something more natural for me to fall into, and that's when the greatest spiritual growth began to happen.
Studying on the topic of teaching was an eye opener that we are all teachers, all the time.
People sometimes misunderstand the calling to teach as a glamorous position that makes you highly regarded somehow. Particularly in this walk, and especially those new to their faith, it's easy to find Truth and build your suit of armor, shield, and sword for battle. One of the biggest mistakes we make is using that armor to tear down the very covenant we have been called to serve, protect, and build up.
Teaching is more than standing in the crowd and giving a speech. There's years of study under other qualified authorities, entire themes and ideas that have to be made into concrete steps of a path that leads to deeper relationship with Abba, different learning (or receiving) styles have to be considered to best get the message to those listening, hours of heartfelt prayer on where He is calling you to go next, and being the center example as a leader for what others are meant to be.
While you don't necessarily have to have a following to be a teacher, the people around you every day are learning from you. They are learning how you speak to others, the way you dress, the energy you give off, what your actions reflect of your character. As Believers, what are we teaching to the people around us? The ones in our congregation, on our timelines, at work, strangers?
When we mistake teaching – or correction – for aggressive assertion, we are completely devaluing what we are called to do.
2 Timothy 2:22-26 "So, flee the passions of youth; and, along with those who call on the Lord from a pure heart, pursue righteousness, faithfulness, love and peace. But stay away from stupid and ignorant controversies — you know that they lead to fights, and a slave of the Lord shouldn't fight. On the contrary, he should be kind to everyone, a good teacher, and not resentful when mistreated. Also he should be gentle as he corrects his opponents. For God may perhaps grant them the opportunity to turn from their sins, acquire full knowledge of the truth, come to their senses and escape the trap of the Adversary, after having been captured alive by him to do his will."
While we can be so excited to share Truth with others, and equally frustrated when others can't see it, it's crucial to understand it's not our job to turn hearts. It's our job to be a light to people so that when they are ready because Abba calls them, they have others to look to and learn from – and most importantly – with. It's also important to consider who your audience is when you're speaking to them. Not everyone receives information in the same manner. When we speak with aggression and accusation, we can find ourselves calling the wrong people and teaching others the wrong things. Not necessarily because what we believe from Scripture is wrong but, instead, that Abba calls us to be anything but wise, gentle, and firmly grounded in Him.
Be careful not to be grounded in things not of Him.
Matthew 7:24-27 "Therefore everyone who hears these words of mine and puts them into practice is like a wise man who built his house on the rock. The rain came down, the streams rose, and the winds blew and beat against that house; yet it did not fall, because it had its foundation on the rock. But everyone who hears these words of mine and does not put them into practice is like a foolish man who built his house on sand. The rain came down, the streams rose, and the winds blew and beat against that house, and it fell with a great crash."
---