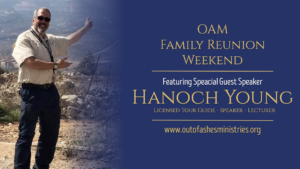 We are excited to invite you to join us for our OAM Family Reunion Weekend, featuring special guest speaker, Hanoch Young. If you are in the area, please consider joining us in person. If you are a part of our online community, you can watch all of the sessions HERE for a small $40 minimum donation. There, you can also submit questions for our Q&R session.
We are incredibly blessed with a wonderful and growing family. We are glad you are a part of it and we hope to see you this weekend!
Download the
"Approaching Passover"
Reading Plan

Welcome!
We believe in one God, the

Father

, the Almighty, maker of heaven and earth

Shoreshim (Roots)
There is a unique and powerful revolution spreading across the earth. People's hearts from all races, creeds, and colors, are hungry to know the Father, Yeshua Messiah, and His holy Word in a different way that ever before…rooted in His Words and His ways.

Have you ever wondered what Christmas and Easter were really all about? Have you ever searched the Scriptures for the deeper meanings of these holidays, only to find they don't exist in the Bible? Once you experience the Biblical Holy Days, your life will never be the same!

Out of Ashes Ministries was birthed out of lives that were broken and desperate for truth. Our hearts are first to know and love our King. We desire to be pleasing to Him. Only then can we be of eternal benefit to the Kingdom and the world. Out of your brokenness, God will bring life!
Teachings
Podcasts
Torah Portion: Terumah
Torah Portion: Mishpatim
Torah Portion:
B
o

From The Blog