Apr 5, 2021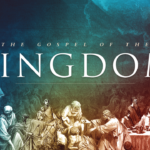 Atonement…What, When, Where, Who…and How?
Join Joe & Kyle this morning as they tackle one of the most central, foundational, and crucial topics of both Judaism and Christianity...Atonement.
Did you know that over the centuries there have been multiple theories and ways to explain the efficacy of Messiah's life, death, burial, and resurrection? This will be a very enlightening and challenging conversation that will ultimately lead you to a place of hope and resolve as you've never known before.
Watch
Notes
Download
Date
Title
Apr 5, 2021

Atonement…What, When, Where, Who…and How?

Apr 5, 2021

Atonement…What, When, Where, Who…and How?

Join Joe & Kyle this morning as they tackle one of the most central, foundational, and crucial topics of both Judaism and Christianity...Atonement.

 

Did you know that over the centuries there have been multiple theories and ways to explain the efficacy of Messiah's life, death, burial, and resurrection? This will be a very enlightening and challenging conversation that will ultimately lead you to a place of hope and resolve as you've never known before.

Mar 23, 2021

Parsha Vayikra | Matthew's Road to Jerusalem

Mar 23, 2021

Parsha Vayikra | Matthew's Road to Jerusalem

Have you ever asked yourself these questions: Why did Yeshua have to die? Does God accept human sacrifice? What exactly is sin? How does Yeshua's death and resurrection deal with sin if we still struggle with sin today? Skipping ahead a few chapters in the Gospel of Matthew, Joe & Kyle begin to take a look a the events leading to Yeshua's crucifixion and resurrection and have a conversation about these and other fundamental questions.

 

Joe also discusses this week's parsha, Vayikra, and answers the question, "What type of sacrifice was Yeshua?"

Mar 15, 2021

Matthew 15- The Controversy of Hand Washing

Mar 15, 2021

Matthew 15- The Controversy of Hand Washing

This week, Kyle and Joe. continue their walk through the Gospel of the Kingdom according to Matthew. Chapter 15 of Matthew contains a very controversial interaction concerning the washing of hands. Many have misunderstood Yeshua's interaction and subsequent criticism of the practicing Pharisees. Join Kyle and Joe as they unpack this incredible passage and bring clarity to this misunderstood tradition.

Aug 18, 2020

The Gospel of the Kingdom: Matthew 1

Aug 9, 2020

The Gospel of the Kingdom: Gospel Overview- Luke & John

Aug 2, 2020

The Gospel of the Kingdom: Gospel Overview- Matthew & Mark