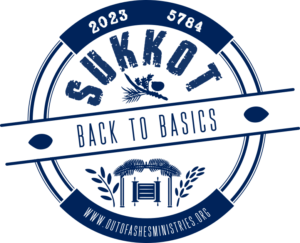 Friday, September 29th – Sunday, October 8th
10339 Lewis Rd. DeRidder (Ricky/Becky Deggs' Home)
Registration
Can you believe it is already that time again??? Sukkot will be here before we know it, and we at OAM are already getting ready!!! We have been so excited to watch with each year, our Sukkot continue to grow and expand. Not just activities and teachers, but our groups, specifically our camping groups, continue to grow and that is AWESOME!!! Due to this growth, we are having to back up and revamp a few things and change up a bit on how we handle registration for our Sukkot.
One thing that we have been told over and over is how affordable our Sukkot is. We know that many of you are on a tight budget and while that is in the forefront of our minds, the fact of the matter is, putting on something of this size for community to come together to celebrate, costs money. So with that in mind, we have decided to charge an upfront registration fee. The breakdown for the registration fees are as follows: $25 single/$50 couple/$100 for families. These fees help us to cover costs of the Sukkah, the tent for meals/classes, kids activities, adult activities, Sukkot welcome bags/supplies.
Lodging
As mentioned before, with each year or number of campers continue to grow. Because of this we have expanded our camping area, increased our electricity accessible areas, and brought in shower/potty trailers to accommodate the numbers. Due to this, we are now charging a flat fee of $100 for single/couple and $150 for families of three or more. These fees help cover the cost of utilities usage, facility usage, as well as any lawn maintenance needed to be done after you leave. ALSO, make sure to bring your own toiletries, towels, as well as power cords.
We have the TREMENDOUS blessing of having a family that offers their homes and land to us every year, hosting our Sukkot. Our main rule when it comes to camping is to "leave it better than you found it". YOU will be responsible for cleaning up after yourself. We want to make sure we treat their property with respect and that they invite us back next year!!!
We recognize and understand that for some, camping is out of the question. We have several hotels and RV Parks that are within 15-20 minutes drive of our Sukkot campground. Below are the locations and phone numbers for you to connect you with those hotels.
Best Western Plus DeRidder Inns and Suites Quality Inn and Suites
(337) 460-2066 (337) 462-0022
Happy Days Rv Resort Pecan Acres RV Park
(337) 396-7427 (337) 462-9999
Food
Last year we decided to change up our schedule and everyone seemed to enjoy it. So we will continue with this year, breakfasts and lunches will be your responsibility. We have gas stations just minutes away for you to refill ice chests as needed. At this time we will not have a community kitchen for you to use, so keep that in mind when planning your meals.
For the nighttime meals, OAM along with "Host Homes" will be providing the dinners. Our "Host Homes" are families that have come forward and asked to pick one of the nights to cook for the entire camp. We did this last year and it was a HUGE hit, so if you would like to host a meal, please connect with Mrs. Becky (337.348.9695). We also will have our annual big "Chili Cook-Off" on Thursday night that you will have the opportunity to participate in. You will have the option of eating with the group or if you prefer to cook your own dinner, that is fine as well.
This year, to make things a little easier, we will be rolling our dining expenses into a "meal ticket" which will cost $50 per person, ages 6 and up. Ages 5 and under eat free. The meal ticket will cover the nightly meals, Friday through the following Saturday, the morning breakfast on Sunday, eating supplies/utensils, etc. If you do not purchase a Meal Ticket, you will need to plan on providing your own dinners. If you do not purchase a meal ticket, we can not promise that we will have food for you if you decided to eat with us after the deadline.
T-shirts
This year we will be doing something a little different with our t-shirts. There was so much positive feed back when we had our tie dye event, that we decided to bring it back. We understand that this may not be something that all of our adults will be interested in doing, so for our adults, we will have separate shirts for the adults to order. For the adults, the shirt will be a chosen color with the Sukkot logo. The kids will have a plain white shirt, with logo that they will be able to tie-dye with their chosen colors. We will have a tie-dye station set up for them to do their shirts during Sukkot. If any of our adults would like to tie dye a shirt, you can do that as well, just order your size in the "kids shirts" section.
Activities
This year, we will be bringing back a few of last year's activities with a few twists as well as adding a few new ones.
Chili Cook-Off
Thursday Night of our Sukkot, we have designated for our second annual Chili Cook-Off. Last year was a BLAST!!! The chili was delicious, the competitors were HILARIOUS, we had SO much fun that several decided they will be joining the competition this year!
Want to participate? What do you have to do? Just let us know that you will be participating. Each contestant will be provided with 8 oz. cups to ladle a sample of their chili. Sukkot campers will then go from station to station, sampling the chili and then cast their vote in the ballot box. The winner will be announced that evening and will be presented with an award and a year of boasting rights. We are REALLY looking forward to this event.
Do YOU have what it takes to be the ultimate Chili Cook?
Sukkah Decorating Contest
– Last year we had our first Sukkah Decorating Contest. It was really neat to see all of the different sukkot, the different decorations, the love and warmth put into each one. This year, we want to challenge YOU to build your own sukkah!!! Criteria??? Totally up to you. Use fall decor, Judaica, store bought, or hand made. We just ask that it be tasteful and nothing scary. Campers will judge the sukkot the last weekend and we will hand out a small award the last Shabbat. So be thinking of decoration ideas now and come ready to show off your skills!!!
Champagne and Cocktails
Ladies, we will be having our tasting as we did last year, however instead of our usual wine, we are changing it up a bit with "Champagne and Cocktails". IF you have attended our Sukkot the past couple of years, you know the quality and time that our hostesses put into this particular event. From the booklets, to the food and the variety of wine, they really go all out, allowing us to sit back and just relax. So to help offset their costs, we will be charging a $10 fee for each one who wants to participate.
We also will be bringing back a group favorite, our Ladies Crafts activity. Our lady in charge is already researching new ideas for us to do this year, so be ready for a great time.
Suds and Buds
Men, last year our guys had an AWESOME time with their bourbon tasting. We are STILL are hearing stories about their "Guys Night Out'. This year, they have decided to change it up a bit with "Suds and Buds". $10 per person. This is only a tasting, you are welcome to bring your own for after the tasting if you would like.
Moonshine and Mixers
For EVERYONE, we will be bringing back our moonshine tasting, but will be twisting it up a bit with "Moonshine and Mixers". We will be offering tastings of straight moonshine and then adding a few mixed drinks as well. If you would like to participate in this activity, we are charging $10 per person.
Water Activities
Every year we do our best to keep our kids busy and entertained. From water balloons, tarps/sprinklers, to giant waterslides (the final weekend), your littles will stay wet and busy. So make sure to bring sun tan lotion, swimsuits, and beach towels!
Night Times
Each night after services, especially for those camping, is the perfect time to relax, unwind, and just enjoy being with family. For those nights, we also love to bring out the cards and dominos. This year, we also have had the suggestion of a "Minute to Win It" night as well as a "Karaoke" night. One thing is for sure, memories will definitely be made during Sukkot.
What's New?
– This year, we are excited to announce that we will be adding breakout sessions for the men AND women. Throughout the weekends, we will have breakout sessions, guys with guys, girls with girls. This is a GREAT time for open discussion. Topics are still being discussed, so come ready for ANYTHING!!!
– PANCAKE BREAKFAST!!! Who doesn't love pancakes for breakfast??!! The first Sunday of Sukkot, OAM will be having a Pancake Breakfast for everyone in the camp to enjoy together.
– We are expanding our daily activities for both adults and kids. From corn hole and horse shoes, to yard chess/checkers, volleyball and a few other games we are working on. We will have PLENTY to do for everyone.
*** Please see the tentative schedule for a more detailed layout of our week.
Shemini Atzeret/Simchat Torah
This year, Schemini Atzeret and Simchat Torah fall on the weekend rounding out Sukkot and we are SO excited to celebrate be able to celebrate them both! For Simchat Torah, we will be celebrating a more traditional celebration of the day. Please make sure to have head covering/kippah as we will be using a replica of a Torah Scroll and we want to show respect and honor to HaShem's instructions. If you have a Tallit and would like to wear it during blessings/prayers, please feel free to do so.
Extras
Ladies, this year we will be welcoming in the Shabbat TWICE during Sukkot. So, if you would like to light candles to welcome in Shabbat, please make sure to bring your candle sticks/candles, the same goes for Havdalah.
If you would like to help with the children's classes, the building of the sukkah, family activities, etc., please connect with us and we will coordinate your help where needed.
LAST BUT NOT LEAST
We are asking that you pay the total amount of your stay when you register. This will help us to buy all supplies needs, food, rent equipment, etc. Just total the amount on your registration form and send in that amount with your registration.
If you have any questions, concerns, or need more information, please do not hesitate to connect with us!