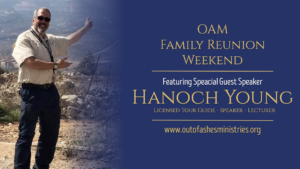 Welcome to the OAM Family Reunion page! Most of you reading this are a part, in some way, of our OAM family. Whether it be joining us on Shabbat locally or online, for Wednesday night Bible study, or listening to Image Bearers Radio, HaShem has connected us together for a special reason.
At OAM, we are incredibly blessed by what HaShem has and is continuing to do in and through this ministry. The purpose of this event is to bring together our online family with our local family for a time of worship, learning, and simply loving on each other. We understand what it's like to not have access to consistent fellowship, trying to navigate this difficult walk alone, and we count it an honor and privilege to be able to host you for this gatherin
We are also extremely fortunate to be able to have Hanoch Young of Kol Yehuda with us, all the way from Modi'in, Israel (the home of the Maccabees). Hanoch is not only a licensed tour guide in Israel (and one of the best), but is a traditionally practicing Jew who has spent the last 2 decades reaching to and educating the non-Jewish world about the land of Israel, Biblical prophecy, and ways to bless Israel. Hanoch brings a message of mutual respect between Jews and non-Jews to those of us who love the God, the land, and the people, of Israel.
Throughout the weekend, you will experience information and conversation that will encourage and challenge you. You will laugh, cry, and prayerfully, leave this weekend with a new resolve not only to follow HaShem closer, but to make the land and people of Israel a focal point of your life.
If you are unable to join us in person, we have made a way for you to still be a part via live stream. Our normal, 10am Shabbat Fellowship live stream will be free and available as always. You can watch it on the 'LIVE" page of our website, on YouTube, or on our Facebook page.
As for the other sessions of the weekend, below, you will find the live stream feed for the weekend. You can watch all of the four weekend sessions for a minimum donation of $40. These donations will go directly to Hanoch's work of reaching out to the non-Jewish world. Simply click the green "Purchase Channel Ticket" and follow the payment prompts. You will then receive a confirmation email that will give you an approved link to join the live streamed sessions.
We appreciate all of the great questions that were submitted. If you have further questions, please contact Hanoch directly over Facebook Messenger or through his ministry website HERE.
We pray that you enjoy this weekend and find it helpful. We pray God's richest blessings on you and your families. Shalom